Radiesse – Lift & Contour
Products Features
Patient Information
Doctor Information
DEFINED LIVES DESERVE DEFINED FACES.
BEAUTY IS AGELESS
The loss of skin elasticity and thickness, along with a reduction in bone structure and fatty tissue lead to sagging and a shift in volume. As a result, the face we see in the mirror begins to lack the contours that define our appearance.
What are RADIESSE® and RADIESSE® (+)?
RADIESSE® and RADIESSE® (+) are dermal fillers that are used for smoothing moderate to severe facial wrinkles and folds, such as nasolabial folds (the creases that extend from the corner of your nose to the corner of your mouth). RADIESSE® is also used for correcting volume loss in the back of the hands.
SO, IS SIMPLY ADDING VOLUME ENOUGH TO GIVE YOUR PATIENTS THE DEFINED LOOK THEY SEEK?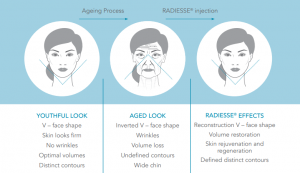 RADIESSE® LIDOCAINE AT A GLANCE
The triple effect: vertical lifting, sharpened contours, neocollagenesis.
Immediately visible results, with effects lasting through 12 months.
High elasticity and viscosity means that RADIESSE® Lidocaine stays where you put it, and offers greater lift with less volume.